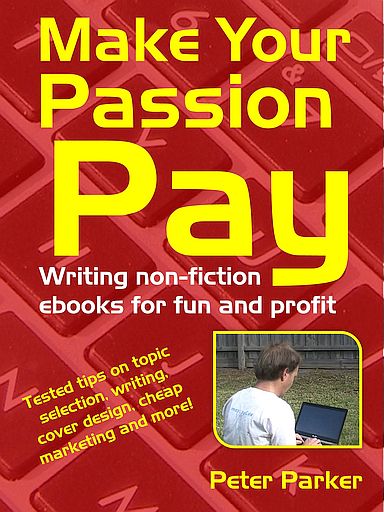 Being shut in getting you down? Lots of people are reading ebooks with sales currently booming.
Why not write one? It's not hard if you've got a favourite sport, hobby, cause or passion.
This concise ebook will show how you can without being a computer geek or needing special software.
Find out why now is a great time to be an independent author. Choice of topic, planning, writing and
then publishing are covered next. Finally you will learn some effective tested low-budget marketing techniques to get your book bought and read.
This is the author's eighth book, following successful titles in a specialised non-fiction area.
Make Your Passion Pay is a quick read with approximately 15000 words in a brisk writing style. It's
available in both ebook and paperback formats.
Contents
Foreword
1. Introduction
2. How ebooks are good for independent writers
3. Reasons to write a non-fiction ebook
4. Anyone can write an ebook
5. Choosing a topic that sells
6. Planning your book
7. Writing your book
8. Designing a cover
9. Uploading your ebook
10. Pricing and payment
11. Making your book attractive to people browsing
12. Cheap ways to promote your book
13. Positioning, branding and marketing strategy
14. A paperback edition?
15. Conclusion
16. About the author
Sample pages through Amazon sales sites (links below).
Online reviews and coverage
Some reviews appear as comments on this video.
Make Your Passion Pay Facebook page
Ordering Make Your Passion Pay
Make Your Passion Pay is a quick breezy read that will get you started writing ebooks in no time.

You can get it as an ebook for under $US 3 or equivalent. Or it's available in paperback

(some countries) for a bit more. Click on your country's link below to order.

Australia Brazil Canada

India Japan Mexico Netherlands

Spain United Kingdom United States

If your country isn't listed above, please search 'Make Your Passion Pay' on the Amazon site you normally use. 'Make Your Passion Pay' is available exclusively via Amazon and no other source may distribute it.

Don't have a Kindle? Don't worry. Ebooks can be read on a PC, iPad or any other mobile device with free reader software. Please see Free Kindle Reading Apps.

Your feedback is invited and will help make this and any future editions better. Please leave it on the Amazon site or email me via the address in the book.

ISBN-13: 979-8638183349
Guest speaker opportunity for your club or group
If you're looking for a guest speaker for your Melbourne area club or group, I may be able to help if you're not too far.
My preferred topic is, as per the title, writing non-fiction ebooks. Learn more here.
Also by Peter Parker
More Hand-carried QRP antennas: More simple antennas and accessories to operate from almost anywhere
Hand-carried QRP antennas: Simple antennas and accessories to operate from almost anywhere
Minimum QRP: Doing more with under five watt amateur radio
Getting back into Amateur Radio: What's new and what you forgot
99 things you can do with Amateur Radio: Ideas and inspiration for new and old hams
Illustrated International Ham Radio Dictionary: Over 1500 radio terms explained