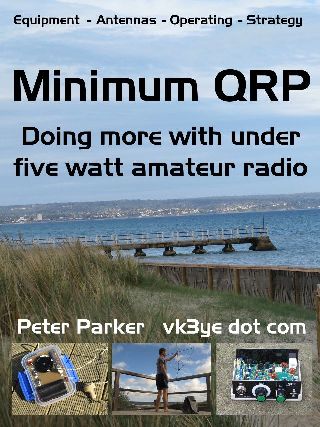 "You cannot find another book that covers this much information, for the price, anywhere"
"Required reading for anyone who wants to extend their knowledge"
Minimum QRP is full of ideas for the radio amateur who wants to get the most from their modest station and antenna. Apply its tested strategies today for more success on the bands, whether you're into portable operating, DX, awards, contests or more. While pitched at the QRPer, those with 100 watts and simple antennas will also find much of interest. It's for a broad audience, including newcomers, the more experienced and those returning to amateur radio.
After touring various facets of QRP, Minimum QRP gives some forthright but often forgotten advice on equipment. Is the commercial, kit or homebrew transceiver you're considering sufficient to give spontaneous contacts almost any time you switch on? This book guides you through the choices out there, with an emphasis on affordable and effective.
Antennas are next. One size and type does not fit all. The right choice depends on location, style of operating and activity patterns in your area. Many suggestions, based on the author's extensive experience of restricted space and portable QRP, are given.
Some QRPers have suitable equipment and antennas yet don't make as many contacts as they should. Reasons for this can come down to choice of band, understanding local activity and operating technique. Whether you're after DX or a local ragchew, Minimum QRP gives some crafty tips on working the most with the least.
Nearly every aspect of amateur radio can be done with five watts. Indeed QRP sometimes adds enjoyment due to simple to construct and lightweight equipment. If you go off one facet there's always another. You'll find information on such diverse sub-interests like weak signal modes, VHF operating, HF pedestrian mobile and much more in this book.
Contents
1. INTRODUCTION
1.1 Why QRP?
1.2 First steps
2. EQUIPMENT FOR QRP
2.1 QRO equipment turned down to QRP
2.2 QRP equipment - new
2.3 QRP equipment - used
2.4 QRP equipment - kits
2.5 QRP equipment - homebrew
2.6 QRP DC power sources
2.7 QRP accessories
3: ANTENNAS FOR QRP
3.1 Antennas - home
3.2 Antennas - limited space
3.3 Antennas - portable
3.4 Antennas - pedestrian mobile
4: PROPAGATION AND ACTIVITY
4.1 Paths and propagation
4.2 Bands for QRP
4.3 Modes for QRP
5. OPERATING QRP
5.1 Making contacts and operating strategy
5.2 Operating resources
5.3 Awards
5.4 Contests
5.5 Portable / QRP outdoors
5.6 Portable for longer/DXpeditions
5.7 Pedestrian mobile
5.8 Milliwatting
5.9 VHF, UHF and satellite QRP
5.10 QRP without an amateur licence
6: OTHER QRPERS, INFORMATION AND EQUIPMENT SOURCES
6.1 QRP clubs (and magazines)
6.2 QRP forums and email lists
6.3 QRP books
6.4 QRP blogs, podcasts and videos
6.5 QRP equipment suppliers
7. CONCLUSION
8. ABOUT THE AUTHOR
A look inside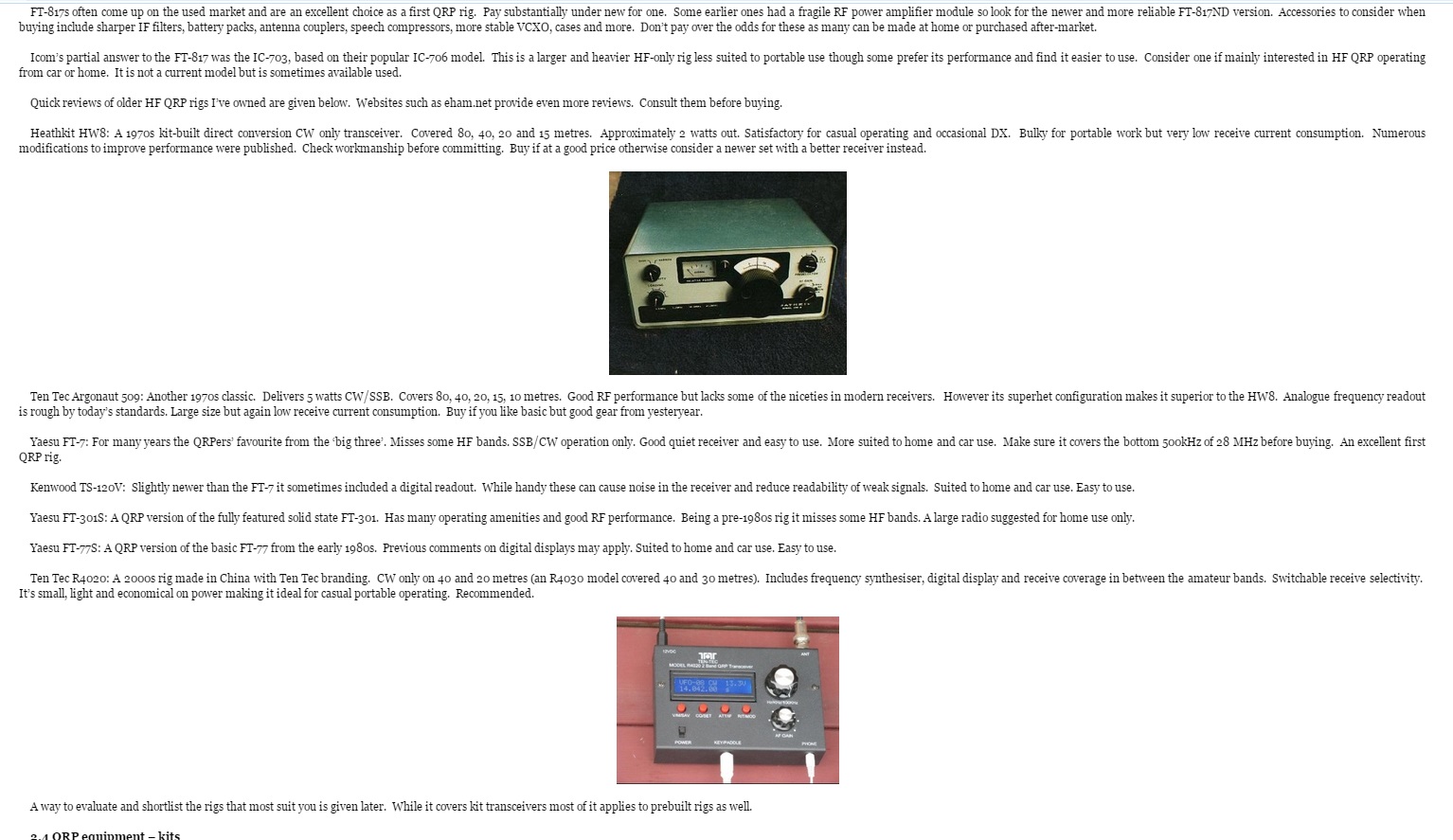 More extracts are available through the Amazon sales site.
Online reviews and coverage
Soldersmoke - Bill N2CQR Soldersmoke podcast (mailbag segment)
Hamspirit.de - Willi OE1WKL (in German)
PA3ANG (in Dutch)
Big Mountain Small Voice Many Ears - Paul VK3HN
W2LJ - QRP - Do more with less
4Z1UG - QSO Today interview with author
Fists Down Under Newsletter - November 2015
Ordering Minimum QRP
Minimum QRP is packed with over 200 pages of information.

You can get it as an ebook for under $US 5 or equivalent. Or it's available in paperback

(some countries) for a bit more. Click on your country's link below to order.

Australia Brazil Canada

India Japan Mexico Netherlands

Spain United Kingdom United States

If your country isn't listed above, please search 'minimum qrp' on the Amazon site you normally use. 'Minimum QRP' is available exclusively via Amazon and no other source may distribute it.

Don't have a Kindle? Don't worry. Ebooks can be read on a PC, iPad or any other mobile device with free reader software. Please see Free Kindle Reading Apps.

Your feedback is invited and will help make this and any future editions better. Please leave it on the Amazon site or email me via the address in the book.

ISBN-13: 978-1520451558
ISBN-10: 1520451555
Also by Peter Parker VK3YE
Hand-carried QRP antennas: Simple antennas and accessories to operate from almost anywhere
More Hand-carried QRP antennas
Ham Radio Get Started: Your successful start in amateur radio NEW!
Getting back into Amateur Radio: What's new and what you forgot
99 things you can do with Amateur Radio: Ideas and inspiration for new and old hams
Illustrated International Ham Radio Dictionary: Over 1500 radio terms explained