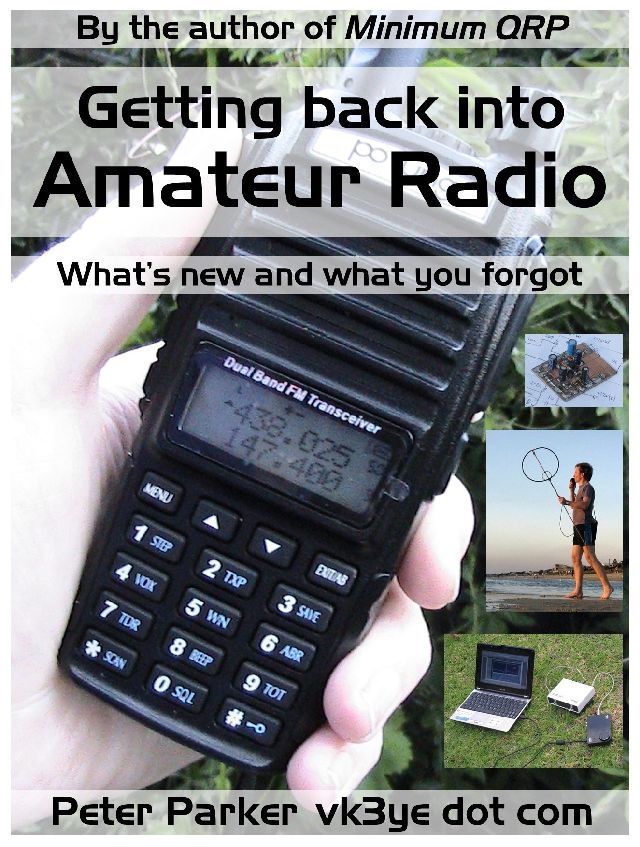 Maybe you've let radio activities lapse but are considering a return. Or are perhaps just curious about what we get up to. Either way Getting back into Amateur Radio could be for you.
In a clear, conversational style, it brings you up to date with what's changed and what you may have forgotten. In almost no time you'll be tuning the bands even if you don't yet own a receiver.
Getting on air is easier and cheaper than ever before, with a huge range of modes, bands and activities to choose from. There's sure to be a specialty that appeals to you, with major recent developments including low-cost digital modes and software defined radios. You may even be able to become relicensed without sitting another test, depending on your country and documentation.
Modern amateur equipment offers amazing features for comparatively low cost. But you might prefer the nostalgia of restoring gear from the past. Or the anticipation then joy of making contacts on something you built yourself. Getting back into Amateur Radio discusses all these equipment choices.
Then there's antennas. Ideas on what to use and what to avoid are given, with special help for those with limited space. Except in extreme cases you should be able to stick up something that's heard.
Forgotten operating procedure? A refresher course on the various way to make contacts is in this book.
A big part of amateur radio - then and now - is meeting other amateurs and learning new things. This book can't cover everything. But there's links to the best ideas and resources that will keep you reading for hours and help you interact with amateurs.
Getting back into Amateur Radio is available in both ebook and paperback formats. It's the author's third book, following on from the top-selling Minimum QRP and Hand-carried QRP Antennas titles.
Contents
1. Introduction
2. Amateur radio in 2017
3. Getting a taste
4. Getting relicensed
5. Regulations
6. Modes, bands and activities
7. Equipment and technology
8. Antennas and station setup
9. Propagation
10. Getting contacts
11. Clubs and information
12. Conclusion
13. Amateur radio acronyms

Sample pages through Amazon sales sites (links below).
Online reviews and coverage
VK3YE Radio Books Facebook page
Ordering Getting back into Amateur Radio
Getting back into Amateur Radio is packed with over 120 pages of information.

You can get it as an ebook for under $US 5 or equivalent. Or it's available in paperback

(some countries) for a bit more. Click on your country's link below to order.

Australia Brazil Canada

India Japan Mexico Netherlands

Spain United Kingdom United States

If your country isn't listed above, please search 'Getting back into Amateur Radio' on the Amazon site you normally use. 'Getting back into Amateur Radio' is available exclusively via Amazon and no other source may distribute it.

Don't have a Kindle? Don't worry. Ebooks can be read on a PC, iPad or any other mobile device with free reader software. Please see Free Kindle Reading Apps.

Your feedback is invited and will help make this and any future editions better. Please leave it on the Amazon site or email me via the address in the book.

ISBN-10: 1520767102
ISBN-13: 978-1520767109
Also by Peter Parker VK3YE
Ham Radio Get Started: Your successful start in amateur radio NEW!
99 things you can do with Amateur Radio: Ideas and inspiration for new and old hams
Illustrated International Ham Radio Dictionary: Over 1500 radio terms explained
Minimum QRP: Doing more with under five watt amateur radio
Hand-carried QRP antennas: Simple antennas and accessories to operate from almost anywhere
More Hand-carried QRP antennas