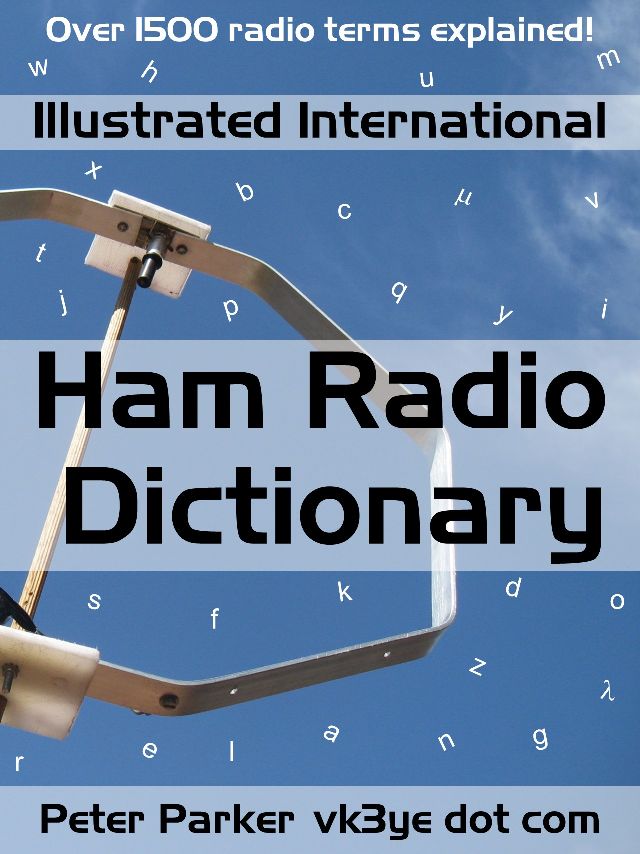 Entering amateur radio? Are you returning after a break away? Or maybe you've tended to specialise in a few facets.
Whatever your interests in radio, Illustrated International Ham Radio Dictionary is for you.
In a clear, conversational style, it presents definitions for over 1500 amateur radio and electronic terms.
Technical and operating facets are both covered in depth. Including country-specific terms, the dictionary is applicable worldwide.
Many definitions have photos or diagrams. Others go into more detail than you might expect. All up there's over 50 000 words.
It makes an ideal companion to the usual study manuals if you are studying for your amateur radio licence.
And, if you hear an unfamiliar term on the air, you will soon be able to follow the conversation with the Illustrated International Ham Radio Dictionary at hand.
Illustrated International Ham Radio Dictionary is available in both ebook and paperback formats. It's the author's fifth book, following on from the top-selling Minimum QRP, Hand-carried QRP Antennas, Getting back into Amateur Radio, and 99 things you can do with Amateur Radio titles.
Contents
1. Introduction
2. Definitions: A-Z
3. Definitions: Numbers
4. Finding things out
5. About the author
6. Thanks
7. Other books by VK3YE

Sample pages through Amazon sales sites (links below).
Online reviews and coverage
Ordering Illustrated International Ham Radio Dictionary
Illustrated International Ham Radio Dictionary is packed with over 180 pages of definitions.

You can get it as an ebook for under $US 5 or equivalent. Or it's available in paperback

for a bit more. Click on your country's link below to order.

Australia Brazil Canada

India Japan Mexico Netherlands

Spain United Kingdom United States

If your country isn't listed above, please search 'Ham Radio Dictionary' on the Amazon site you normally use. 'Illustrated International Ham Radio Dictionary' is available exclusively via Amazon and no other source may distribute it.

Don't have a Kindle? Don't worry. Ebooks can be read on a PC, iPad or any other mobile device with free reader software. Please see Free Kindle Reading Apps.

Your feedback is invited and will help make this and any future editions better. Please leave it on the Amazon site or email me via the address in the book.

ISBN-13: 978-1793145505
ISBN-10: 1793145504
Also by Peter Parker VK3YE
Ham Radio Get Started: Your successful start in amateur radio NEW!
99 things you can do with Amateur Radio: Ideas and inspiration for new and old hams
Getting back into Amateur Radio: What's new and what you forgot
Minimum QRP: Doing more with under five watt amateur radio
Hand-carried QRP antennas: Simple antennas and accessories to operate from almost anywhere
More Hand-carried QRP antennas